Ronbow® Premieres New Signature Series – 9 Renowned European Designers Create 11 Globally Trendsetting Collections for the Bath
Theo tin prweb.com
FREMONT, CA (PRWEB) FEBRUARY 17, 2016
The Signature Series by Ronbow marks the rare occasion that nine of the world's most distinguished designers have been chosen to create their own collections for one single brand. The designers responsible for the Signature Series are known for their contributions to iconic brands such as Nike, Adidas, Vuitton, Apple and a firm recognized for several exotic Italian automobiles. The series includes multiple options and configurations, with convenient and smart innovations such as LED touch sensitive mirrors, USB ports and plug outlets incorporated into the product, as well as unique material combinations.
Bringing together some of the world's most innovative masters of expression, the Signature Series by Ronbow consists of 11 collections designed by nine top European designers. Designers involved with the series include: Pininfarina (Italy), DANELONMERONI (UK), Ramon Esteve (Spain), Ora Ito (France), Kurz Kurz Design (Germany), Joan Lao (Spain), Phoenix Design (Germany), Matteo Thun & Antonio Rodriquez (Italy) and Alexander Zhukovsky (Russia). These designers infused their passion and creativity with Ronbow's philosophy of high-quality craftsmanship and attention to detail to create next generation bathroom furniture and complete suites unlike any seen before.
"The Signature Series is a landmark for Ronbow's presence in the upper echelon of unforgettable brands and continues to define our mission of bringing astonishing products with design integrity, functionality and quality to market," said Stuart Stanton, executive vice president at Ronbow. "The spirit, imagination and art that these incredible designers put into the collections give them a look and feel overflowing with energy and ingenuity."
The initiative to extend product development and industrial design to award-winning talent outside of Ronbow's team was the vision of Ronbow's Founder and CEO, Jason Chen, as part of the ongoing strategy to bring fresh and contemporary European design into their diverse portfolio of collections. To do so, Ronbow went directly to the most celebrated and internationally recognized experts around.
"For over 14 years, the Ronbow brand has been synonymous with quality, craftsmanship and diverse product offerings all over the world," said Chen. "We are driven by innovation in design, technology and refined manufacturing practices, so our evolution in creating the next bath furniture suite release for our discerning clientele led us to working with nine European designers who are each recognized as being leaders in their respective fields. There is something very humbling and gratifying to realize when working with these renowned brands that is much more than us selecting and investing in them; they have entrusted their prestigious reputations to Ronbow because they know we can deliver on their design visions and that our manufacturing capabilities, finishing techniques and exceptional quality are world class."
The following is an overview of the Signature Series by Ronbow:
BRIT Collection by DANELONMERONI
Designed by commercially successful and critically acclaimed UK design duo Claudia Danelon and Federico Meroni, founders of the iconic London based design studio DANELONMERONI, the BRIT collection exudes comfort and refined luxury to complement every residential interior – from urban apartments to classic homes. Like the finely crafted furniture that it is, great attention has been paid to the smallest of details. Available in three sizes: 27", 41" (R or L) & 53" and one finish: Bristol Beige (E40).
FREE Collection by DANELONMERONI
Also designed by DANELONMERONI, the FREE collection is inspired by the adaptability of living room furniture and is designed to offer a high degree of flexibility. It is characterized by clean lines and a linear aesthetic, allowing the user to configure the pieces in creative and surprising ways. Available in three sizes: 31", 47" & 63" (modular) and two finishes: Light Bamboo (E71) & White (W01).
MARCO Collection by Ramon Esteve
Designed by Spain's Ramon Esteve, a former architect whose work with prestigious brands has been published in more than 100 books and magazines, the MARCO collection emphasizes strong linear design, focusing on essentials rather than embellishments. With smartly designed storage accessories like the towel bar, drawer and side cabinets, designs can be customized with a minimalist approach. Available in two sizes: 31″ & 63″ and three finishes: Dark Bronze (DB) powder coated metal, Oak Toscana (E82) wood and White (W01) wood.
NOCE Collection by Matteo Thun & Antonio Rodriquez
Designed by revered Italian architect and designer Matteo Thun, who is well known for his design work with Swatch, and Antonio Rodriquez, the NOCE Collection was born from the designer to combine urban and contemporary classic styles while ensuring maximum comfort. The core element is the hutch hosting the mirror, framed by storage space. NOCE results in a space that is compact but comfortable. Available in four sizes: 27", 39", 51" & 78" and one finish: American Walnut (E56).
PEBBLE Collection by Ora Ito
Designed by award-winning French designer Ora Ito, world famous for his iconic work with brands such as Heineken, Nike and Toyota, the PEBBLE collection represents Ito's idea of "Simplexity" – art to give an object with complex functions a visible simplicity. The Glossy White wood finish acts as a canvas to best showcase the unique, organic, "pebble-like" shapes and curves. The PEBBLE vanity design also integrates an LED mirror and a solid surface sinktop for a simple, seamless look. Available in one size: 29″ and one finish: Glossy White (E23).
PURE Collection by Alexander Zhukovsky
Designed by celebrated Russian designer Alexander Zhukovsky, highly regarded for his exceptional industrial design work across multiple disciplines including lighting, furniture, sanitary, medical and automotive, the PURE collection accentuates the beauty of simplistic, pure line forms by integrating a sleek, symmetrical line design theme throughout each unique piece. Available in one size: 43″ and one finish: Glossy White (E23) with Chene (E07) accents.
STACK Collection by Phoenix Design
Designed by German design leader Phoenix Design, which has won more than 700 prestigious awards and has been recognized for its revolutionary design achievements, the STACK collection is innovative and multifunctional. True to its namesake, its asymmetrical nature and functional beauty make it easily adaptable to fit a variety of spaces. STACK also provides well-planned storage solutions for more confined areas. Available in two sizes: 27" & 54" and one finish: Stone Gray (E73).
WIDE Collection by Phoenix Design
Also designed by Phoenix Design, the WIDE collection is inspired by Bauhaus values, integrating the simplicity of clean, geometric forms and pure elegance for a refreshingly modern style. Available in two sizes: 28" & 54" and two finishes: Traffic Gray (E11) & Stone Gray (E73).
UNITY Collection by Kurz Kurz Design
The UNITY collection was designed by leading German designer and founder of Kurz Kurz Design, Dorian Kurz. Calming, serene, and beautiful, UNITY features a harmonious blend of simple shape and color using a soft Glossy White palette and a symmetrical "U" shaped, curved design theme carried through the wood open shelving, stainless steel legs and ceramic sinktop. Available in two sizes: 31″ & 47″ (wall mount or floor standing with optional Brushed Nickel (BN) stainless steel legs) and one finish: Glossy White (E23) with exposed plywood edge trim.
VENTO Collection by Pininfarina
Designed by internationally reputed Italian design house Pininfarina, iconic for their more than 85-year history of prestigious design in an endless number of fields including transportation, architecture and interiors, the VENTO collection, or "wind" collection in Italian, emphasizes an elegant, sleek and innovative sinktop design inspired by perfectly smooth snowdrifts carved by fast, strong winds. Available in two sizes: 30″ & 42″ and two finishes: Graphite (E19) & Chene (E07).
WATERSPACE Collection by Joan Lao
Designed by Spanish international design luminary Joan Lao, who is recognized globally for his work in product, interior and architectural design, the WATERSPACE collection embodies the essence of all of Joan Lao's pieces – balance. This induces harmony and serenity into his pieces and spaces. Available in 3 sizes: 10" tall, 20" tall & 30" tall and two finishes: Ebo Gray (E60) & Drift Gray (E58).
The Signature Series by Ronbow is available for purchase through Ronbow's exclusive decorative plumbing fixture and hardware dealer network all over the world.
________________________________________
About Ronbow®
Ronbow is a leading global company in the architectural products industry that produces luxury bathroom furnishings with a focus on wood and ceramic products. Founded by CEO and Owner Jason Chen in 2002, the company is family run and continues to build on its exemplary reputation for quality, luxury and design innovation. Ronbow is based in the San Francisco Bay Area (Fremont, CA), with two large-scale manufacturing facilities in Shanghai and regional offices and partner sales agents located throughout the United States and Canada. Ronbow owns and operates furniture, stone and ceramic facilities, which allow them to control their design, manufacturing and supply chain, ensuring the highest quality. Ronbow has more than 2000 employees dedicated to producing exceptional products, which can be found in millions of homes and businesses around the globe.
For more information about the Signature Series by Ronbow, contact David Schlocker at DRS and Associates: (818)981-8210 davidrs(at)drsandassociates(dot)com.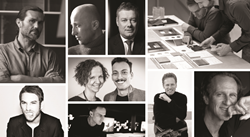 http://www.prweb.com/releases/2016/02/prweb13217358.htm