ANN SACKS Unveils Designs by Kelly Wearstler
Theo tin prweb.com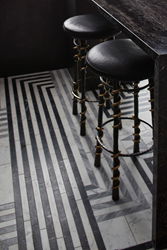 PORTLAND, OR (PRWEB) MAY 24, 2016
ANN SACKS, a leading designer and manufacturer of fine tile and stone, collaborated with internationally renowned designer, Kelly Wearstler, to create a series of collections that embody the heart and soul of her remarkable, often-published and heralded career. Her love for geometric patterns and architectural details, the precision and clean symmetry, and visually striking and boldly distinctive designs, with a modern nod to sand and stone patterned landscapes, all come into play through her new designs for ANN SACKS.
The three collections – Maven, Tableau, and Liaison – are the first of five collections being unveiled in 2016 and 2017. Each speak to Wearstler's design acumen and ability to translate her love of nature and all its unique beauty and irregularities into works of art.
Maven: Drawing upon Wearstler's affinity for repetition and relaxed, painted geometric patterns, Maven by Kelly Wearstler for ANN SACKS features the designer's signature graphic striations and black and white motifs in embossed, textural designs that are at once spirited and sophisticated.
Maven is comprised of 11 ceramic tiles that incorporates the dry line technique of cuerda seca, a handcraft that has been brought over from Spain, and been used by artisans for centuries. Maven designs are of a single color that stands proud from the black or gray dry line. The series is offered in 30 colors from which to choose and a white-on-white design is currently being explored. The marriage of modern design and ancient craft is executed through screen printing and hand-painting to achieve a tactile finished product. Maven currently offers Solstice I; Solstice II; Solstice III; Ojai; Breakwater; Islander; Zuma; Dune; Canyon; Vortex; and, Woven, with additional Maven designs already under development.
Liaison: Inspired by Wearstler's love of geometric pattern-work and architectural details and the unstated, yet remarkable beauty of precise, clean symmetry, Liaison by Kelly Wearstler for ANN SACKS, offer stone designs that are visually striking and boldly distinctive.
The Liaison series offers nine unique designs, with four being in-stock, and an array of colorways based upon the natural beauty of marble and its contrasting interplay. Three of the designs – Laurel, Palm, and Hillcrest – will be offered as made-to-order rugs to create focal points within a room, as well as being a striking choice for feature walls, floors, backsplashes, fireplace surrounds, and showers.
Tableau: Singularly chic with rich textures and iconic patterns that celebrate the hand-quality design elements of her home interiors, Tableau by Kelly Wearstler for ANN SACKS, reference such iconic designs as Wearstler's luxe, ruched leather furniture and architecturally inspired graphic wallcoverings.
The Tableau series of six designs – Horizon 1; Horizon 2; Reef; Crescent Deco; Crescent Field and Surf – are available in 9"x9" field tiles. The stoneware base allows the artists to manipulate each interpretive design in the most exacting way creating a textural surface in which the glaze are applied by hand and through firing react to the dimensional surface art. The pooling and breaking of the color adds to the tile's overall effect, with no two exactly alike.
The remarkable series all stem from the heart of an artist who incorporates the world around her in surprising ways. Explained Wearstler, "My aesthetic is about mixology – the juxtaposition of contemporary and classic, masculine and feminine, raw and refined. I have a great passion and affinity for art history. Important historical reference points lend such spirit to a space. The tension of opposites has always been innately sexy to me. I want to tell a story that is adventurous, unexpected and special."
Her collective body of work speaks to Wearstler's insightful ability to transport an ideal into a dimensional, artistic expression. Her collections for ANN SACKS build upon these core values – from the textural play of stone mosaics, to employing the handcraft of the cuerda seca dry line technique, and the earthy beauty of stoneware – all come together in three distinctive collections that speak to her great talent and very unlike anything produced by ANN SACKS in the past.
About ANN SACKS
Founded in 1981, ANN SACKS has built its reputation with inspiring designs in tile, stone, plumbing, lighting and accessories. Based in Portland, Ore., the company is a division of the Kohler Co. Interiors Group, a wholly owned subsidiary of Kohler Co. Ann Sacks Tile and Stone, Inc., along with Kallista plumbing and Robern mirrored cabinetry and vanities are part of the Kohler Interiors Decorative Products sector. Under its Furniture sector resides Baker and McGuire furniture.
Founded in 1873 and headquartered in Kohler, Wis., Kohler Co. is one of America's oldest and largest privately held companies. Kohler is a global leader in the manufacture of kitchen and bath products, engines and power generation systems, cabinetry, tile and home interiors, and international host to award-winning hospitality and world-class golf destinations.
For additional information regarding Maven, Tableau, Liaison, or other ANN SACKS products, consumers can call toll-free 1-800-278-TILE or visit the ANN SACKS website at http://www.annsacks.com.
# # #
http://www.prweb.com/releases/2016/05/prweb13424739.htm
Note: We are not responsible for typo error, price change, substitute item, or available of item from online ads.