From Runway to Home Decor – Home Dynamix Launches Nicole Miller Rug Collection
Theo tin trong prweb.com
Home Dynamix Announces Partnership with Esteemed Fashion Designer- Nicole Miller
NEW YORK, NY (PRWEB) MAY 16, 2017
Home Dynamix will debut home textile products this fall in a partnership with renowned fashion designer Nicole Miller. Celebrated for her couture precision and timeless glamour, Nicole Miller combines her design philosophy with the high quality and practicality that Home Dynamix's home textiles have become known for. The line's feminine color pallets and urban designs take inspiration from Miller's latest runway looks, while special techniques like space-dying and heathered yarns, make for truly one of a kind pieces. This is the first in a long-term agreement which will include additional home textile pieces.
"We always keep an eye on what's trending in fashion and strive to bring that high-end style into our everyday home collections; and who better to do that with than the quintessential fashion icon Nicole Miller?" asked Yuval Evar- Executive Vice President, Home Dynamix. "This is the latest in the line of licensing agreements that we have entered this year, as we continue to cement our position as a top distributor of home textiles."
"Good design isn't just for your wardrobe – your home is an extension of your personal style," exclaimed Nicole Miller. "I wanted to be able to give my customers the chance to bring that idea into their home decor – using my signature prints, colors, and design techniques in a new way. Home Dynamix has been a great partner in designing my home textile line! They've really done a wonderful job translating my dream of a home decor line into collections that are both stylish and functional."
Nicole Miller's debut collections for Home Dynamix will feature the following beautifully designed area rugs:
Artisan- True to Nicole Miller's flair for the exquisite and the unique, the Artisan collection for Home Dynamix is made from a silky viscose that is space-dyed with rich jewel tones, covering each rugs with hundreds of multi-colored hues.
Kenmare- Nicole Miller designed the Kenmare collection for Home Dynamix with the hip woman in mind. Crisp and cool blues and purples are brought to life with delicately woven yarns that shimmer under the light and also feature an embossed-like look for both texture and aesthetic appeal.
Parlin- Taking inspiration from Nicole Miller's spring collections, the Parlin rugs for Home Dynamix bring a bolder update to traditionally feminine color pallets with deep hues and defined lines to give each area rug a unique look that features intricate details on a plush polypropylene top.
Heavenly- The solid shag rugs of the Heavenly collection are as special and comfortable as Nicole Miller's clothing line. Constructed with an ultra-soft microfiber, Home Dynamix has developed the Heavenly collection for those who are looking for both comfort and style.
Casey- The Casey rugs by Nicole Miller are high-pile, luxurious shags for cozy elegance. Using a special dye technique to achieve a heathered look, this exceptionally plush shag rug will transform the look of your room from flat to fabulous.
About Home Dynamix
Founded in New Jersey in 1986 as a rug importer business, Home Dynamix is a family-owned and operated business that has grown to become a leader in manufacturing and distribution of beautifully designed and quality home goods including rugs, mats, bedding, bath and pet products. With more than three decades in the home textile business Home Dynamix has distinguished itself as a trendsetter that always keeps the customer in mind.Home Dynamix is a worldwide company with more than 300 employees in offices in New Jersey, New York, California, China and India. Home Dynamix travels the world to find the freshest styles, most luxurious fabrics, and most advanced technology to create high quality, high fashion home decor products. For more information, visit http://www.homedynamix.com.
About Nicole Miller
Known for her signature graphic prints and innovative silhouettes, Nicole Miller is an iconic American designer with a modern, ageless aesthetic. With a degree in fine arts from The Rhode Island School of Design and a degree from l'Ecole de la Chambre Syndicale de la Haute Couture Parisienne in Paris, Nicole Miller combines her art training with couture technique. Nicole Miller's creations have garnered a loyal following of celebrity fans including Angelina Jolie, Beyoncé, and Blake Lively, amongst others. Nicole is a CFDA board member, and has been the recipient of numerous industry awards such as the Legend of Fashion Award (2006), Fashion Group International Lifetime Achievement Award (2012), and the Visionary Woman Award (2014).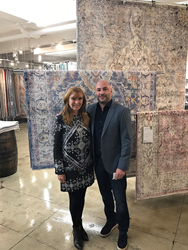 http://www.prweb.com/releases/2017/05/prweb14340893.htm
Note: We are not responsible for typo error, price change, substitute item, or available of item from online ads.