Dering Hall Names Michael Boodro, Chairman, Editorial and Strategic Initiatives
Theo tin Dering Hall trong prweb.com
Former Elle Decor Editor-In-Chief to expand, create new content across all of Dering Hall's digital platforms; develop innovative programs for Design Community.
NEW YORK, NY (PRWEB) SEPTEMBER 13, 2017
Dering Hall, the premier online resource for designers and sophisticated consumers to discover, organize and connect to the world's finest interior design products and talents, names Michael Boodro, former editor-in-chief of ELLE DECOR, as Chairman, Editorial and Strategic Initiatives. The appointment was announced today by Dering Hall Co-Founder Peter Sallick.
In his new role, Boodro will expand and enhance Dering Hall's position as the go-to source for the finest in interior design furnishings by top designers and brands, as well as a site that designers and consumers turn to for inspiration, information, and ideas.
An innovator in the interior design industry, Dering Hall is dedicated to bringing the design world online, making it more accessible and easier to navigate for both design professionals and consumers.
"In his seven years as the top editor of ELLE DECOR, Michael Boodro transformed the magazine into the design community's favorite resource," says Peter Sallick. "His deep knowledge, discerning eye, and passion will help solidify Dering Hall's position as the preferred digital partner at the forefront of the design industry."
During his tenure at ELLE DECOR, the magazine became a must-read for interior designers, and it expanded its readership through print and online, and in turn attracted numerous new global luxury advertisers. He is a sought-after speaker at key design events and conferences throughout the US and Europe.
"I am very excited to become part of the Dering Hall team" says Boodro. "My new role will allow me to promote and celebrate the best in design as well as help designers address the issues they face as the industry adapts to new technology." He adds, "Dering Hall has already established itself as a leader in providing editorial and marketing opportunities for the industry. My aim is to expand its impact with additional engaging editorial content, innovative social media campaigns, and creative collaborations with design centers, brands and designers across the country."
About Dering Hall
Since its founding in 2011, Dering Hall has become the premier online resource for designers and sophisticated consumers to discover, organize and connect to the finest interior design products and talent in the world. At the intersection of shopping and inspiration, Dering Hall is dedicated to showcasing exceptional high-end design through original editorial and curated listings featuring the work of top brands and design firms in the industry. Members are carefully chosen to represent the finest in design, providing a curated experience for discerning readers, both consumer and trade. Membership provides interior design brands exclusive access to a combination of product advertising, editorial coverage, social promotion, and lead generation, all measured through a proprietary, real-time dashboard. For more information on Dering Hall, visit http://deringhall.com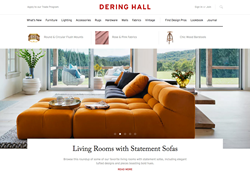 http://www.prweb.com/releases/2017/09/prweb14684601.htm
Note: We are not responsible for typo error, price change, substitute item, or available of item from online ads.