AtmosFX Launches New 2017 Digital Decorations, Gear, and Merchandise for Halloween
Theo tin trong prweb.com
Three New Decoration Collections, New Digital Decorating Kit, 3DFX Form, Halloween Album, and More
SEATTLE, WA (PRWEB) OCTOBER 10, 2017
AtmosFX, the digital decorating company known for bringing amusement-park-quality effects to the home, today announces three new digital decorations and a line of gear to wow trick-or-treaters and bring home-haunters' dreams to life.
"Halloween is a universal holidays that brings everybody together to celebrate and have fun, and we couldn't be more excited about our new gear and animations," says AtmosFX Co-Founder, Pete Reichert. "From eerie eyes, to a trio of singing ghosts, our new digital decorations are going to make 2017 Halloween better than ever. As a pioneer in making holiday projections, we pride ourselves on the high-quality decorations our creative team designs, as well as the custom gear we provide to home decorators."
2017 ATMOSFX HALLOWEEN DECORATIONS:
1. Paranormal Passage™
Paranormal Passage consists of three poltergeist-packed, digital decorations that prove how fragile the barrier between the paranormal and human existence can be. Each of the scenes come with three versions (standard, flashlight, and spotlight) and are in 1080p HD.
Spectral Surfaces (Paranormal Passage)
Otherworldly hands and faces stretch through your wall or any surface imaginable — pushing the limits of this dimension and your courage.
Possessed Portrait (Paranormal Passage)
Is this gruesome gallery a wall of portraits or, a portal for evil? A 17th century portrait seems to be possessed by an evil spirit. Is it your imagination or, a malevolent being out to seize your soul?
Facade of Fright (Paranormal Passage)
It's not just your mind that's cracking up, your wall is too! Behind those expanding ruptures and holes, a most unnerving poltergeist probes for a way into your home — and your mind!
Paranormal Passage scenes can be purchased here:
Paranormal Passage
2. Boo Crew™
Boo Crew is a family-friendly collection consisting of eight digital decorations full of songs, playful banter and an occasional good-natured scare. All the scenes are in 1080p HD
Boo Crew scenes can be purchased here:
Boo Crew
3. Eerie Eyes™
Eerie Eyes is a subtly disquieting decoration that features numerous varieties and eyeball types — no matter how hard you try, you can't look away! All Eeries Eyes scenes are formatted for windows, TV, Walls, and Hollusion™ mode — the stunning hologram-like illusion.
Purchase Eerie Eyes scenes here:
Boo Crew
NEW 2017 GEAR:
1. Digital Decorating Kit (DDK) $199.99
The 2017 DDK is the highest-quality standard-definition projector on the market. The kit includes everything you need to create stunningly original displays for Halloween, Christmas, and other celebrations year-round.
The 2017 DDK is brighter than earlier models. It features higher contrast and a more vibrant color display — ensuring your digital decorations look sharper, brighter, and more dynamic than ever. The DDK is an affordable, plug-and-play way to bring the magic of digital decorating to your home.
Purchase the DDK Here:
https://atmosfx.com/collections/gear/products/digital-decorating-kit
2. Digital Decorating Kit Plus (DDK+) $299.99
Like its sibling, the Digital Decorating Kit Plus is an innovative, entry-level projector that includes everything you need to create stunningly original displays for Halloween, Christmas, and other celebrations year round.
The DDK+ has several new features that make it arguable the best holiday projector for 2017 and are fueling the surge in sales:
HD 1080p native projection
More than twice the brightness of the standard AtmosFX DDK projector
The highest contrast and vibrant color display of any holiday projector
Two internal speakers for richly sound
Bluetooth capability allowing the DDK+ to wirelessly pair with an enabled speaker
An updated, intuitive interface
Purchase the DDK+ and preview its included scenes here:
https://atmosfx.com/collections/projectors/products/digital-decorating-kit-plus
3. Media Player with Motion Sensor
The AtmosFX Media Player is an exciting way to run your digital decorations® without having to use a laptop or DVD player. This small-sized media player can be attached to projectors, televisions, and other devices that can't play media on their own. The AtmosFX Media Player is also compatible with additional digital content including music, movies and photos.
Purchase the AtmosFX Media Player here: https://atmosfx.com/collections/media-players/products/atmosfx-media-player-2017
4. 3DFX Form $59.99
The 2017 3DFX Form now features an easy-to-use foot pump and improved projection shroud. Simply inflate the 3DFX Form in an optimal location, cover it with the provided projection fabric, and project any of your favorite 3DFX Prop mode scenes directly onto its surface.
Purchase the 3DFX Form Here:
3DFX Form
5. Special Goodies
As surprises this trick or treat season, AtmosFX also has two new items in the Merchandise section of our store:
The official AtmosFX Skull T-Shirt: black with a ghostly skull grinning out of the dark.
The Gourdy Plushie: Gourdy is the pumpkin-headed Guardian of Halloween who seems to have taken up residence in our offices.
The AtmosFX Halloween Hits: Volume One — Set the mood for Halloween parties, gothic dinners, or kid-friendly evenings of ghost stories with an AtmosFX soundtrack. The album features songs from the digital decoration® collections: Jack-O'-Lantern Jamboree™, Witching Hour™, and Boo Crew™.
To purchase the shirt or album:
Merchandise
To shop at AtmosFX:
https://atmosfx.com/collections/shop
About AtmosFX
AtmosFX is a digital decorating company that helps people decorate their homes for holidays and celebrations with fun and entertaining animated characters and stories. AtmosFX offers a variety of beautifully animated, amusement-park-quality scenes and characters that can be viewed on any tv or monitor, and projected on flat surfaces – even windows.
AtmosFX was founded in 2008 by Pete Reichert, a former MTV Producer, and Pete Williams, an animator, and show creator. Both were inspired by high-end video installations they had produced for amusement parks and museums. Today, AtmosFX is the fastest growing digital home decorating company with customers in more than 100 countries around the world.
For more about AtmosFX and to purchase its products, visit http://www.atmosfx.com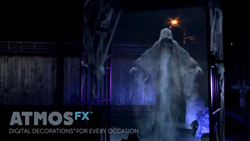 http://www.prweb.com/releases/2017/10/prweb14772161.htm
Note: We are not responsible for typo error, price change, substitute item, or available of item from online ads.