Fabric/Home Decor & Lifestyle Designer, Jamie Lauren, Denver Colorado's Break out Designer, Previews Spring Product Line at NY NOW, the Nation's Premier Design Show
Theo tin hay prnewswire.com
Revealing her secret finds from Central and South American countries that have taken on a beautiful, if not extraordinary life of their own as repurposed Fabric, Home and Lifestyle Products, Jamie Lauren Designs launches her spring line of one-of-a-kind custom artisan creations at the nation's leading design show, NY Now, Feb 2nd – 7th in the highly-specialized Global Hand Made Market. The five-day show draws more than 25,000 visitors, 2,300 exhibitors to the fashion and furniture trade industry's trendsetter and media representatives.
BOULDER, COLO. (PRWEB) JANUARY 30, 2018
Seven Days, Two Countries, Dozens of Fashion and Lifestyle Products
Back from a 7-day, two-country buying trip this past December, and high into the mountains of Peru through to the mud-lane villages buried under canopies of trees deep inside Honduras, Jamie Lauren, the indefatigable designer, and artistic genius behind extraordinary one-of-a-kind products that repurpose the vibrant hand-made fabrics that can only be found in these far-away places, will be showcasing her company's Spring line of handbags, furniture accessories and lifestyle products.
"Our products are truly one of a kind creations," says Jamie Lauren, who started Jamie Lauren Designs (http://www.JamieLaurenDesigns.com) three years ago, and since then, has rocketed to industry recognition with her products being featured in Architectural Digest, Boulder and Cherry Creek Lifestyle Magazines, and other fashion and furniture industry media.
"Our fun, vibrant and colorful bags are street-stoppers and our pillows and ottomans add a unique pop of color and cozy comfort to any den, bedroom or living room," says Lauren. Lauren's products are carried in 11 states, such as California, Colorado, Florida, Maine, NY, and North Carolina, among others, by retailers such as Cabana Home, Voss, The Little Nell, Perez Art Museum, BD Jeffries, Jayson Home, Snug Harbor, ABC Home/NYC, and others. "For the past two years, the show has been tremendously successful for the company," says Lauren, "this is our third year attending, and we are proud to have a fantastic corner location in this highly-specialized global market section of the show."
SEE JAMIE LAUREN DESIGNS – SPRING COLLECTION PREVIEW GALLERY:
http://www.jamielaurendesigns.com/spring-release
Beautiful Hand Stitching and Embroidery, Patented Leather Hand Bag Straps, Time-Honored Techniques
Many of Jamie Lauren's oversized hand-bags include her unique patented leather braided shoulder strap. This gorgeous design feature is not only comfortable, but adds a high-quality dimension to both the look and feel of the bag, whether filled to the brim, or just toting a wallet and cell phone. Great for around town, to the beach, the market, or a picnic, these bags can be dressed up, or down – sundress and shorts to slinky skirt. Says Lauren, "The versatility of these bags is what makes them so popular."
The fabrics and leather used across product lines marry fashion-forward design with practical form and function, whether in a bag, ottoman, pillow, clutch or shoulder purse.
These fabrics are made in centuries old traditions. Whether it's a Frazada from Peru made from dyed sheep's wool, using techniques passed down through generations, or a Kantha, a quilt, made in India from soft luxurious quilts utilizing an embroidery technique originating from Bangleesh, or the Hmong art and embroidery technique from Thailand that features vivid designs and contrasting colors, or the use of Indigo and Mudcloth, a laborious process that can take up to a week to be crafted in Africa — all Jamie Lauren product designs use a stunning array of these earthy products to produce a versatile line of spectacular must-have lifestyle goods.
SEE JAMIE LAUREN DESIGNS – SPRING COLLECTION PREVIEW GALLERY
http://www.jamielaurendesigns.com/spring-release
About Jamie Lauren Designs
Jamie Lauren Designs produces quality hand-craft original accessories and small home furnishings for everyday enjoyment that go well beyond every day style. Unique and wonderfully unexpected, Jamie Lauren Designs brings a fresh and inspiring look that complements a wide range of style and décor from rustic to urban and in between. Handbags, accessories, pillows and other small home furnishings are hand-made with fabric and leather from around the world to bring you storied traditions in a modern day style.
ABOUT THE ARTIST
East Coast native turned Colorado entrepreneur, Jamie left corporate work to pursue her creative spirit. Inspired by the creative process, motivated by constant learning and energized by bold color, Jamie enjoys pairing the beauty of old traditions with fresh new ideas to produce results that are wonderfully unexpected. She lives with her husband, two young children, and golden retriever in Boulder, Colorado, a community known for its entrepreneurial and artistic nature.
About NY NOW Jacob Javits Convention Center Trade Show.
ABOUT NY NOW / FASHION, FURNITURE PREMIERE INDUSTRY TRADE SHOW
NY NOW, the Market for HOME + LIFESTYLE (formerly New York International Gift Fair), is the premiere U.S. event for the best products and lines across the home, lifestyle and gift spectrum. Produced twice annually in January and August, the Market is organized into three Collections — HOME, LIFESTYLE and HANDMADE (including Artisan Resource®) to help independent and specialty retail buyers, interior designers/firms, distributors, importers and wholesalers find everything they're looking for from the 2,500 exhibitors and 400 product categories. Set in the center of creativity and commerce that is New York City, 25,000+ buyers representing more than 13,300 companies travel from all 50 states and 80 foreign countries to each Market.
——————
Editors Note: High quality images of all products are available.
http://www.JamieLaurenDesigns.com
Link to Spring Collection Gallery: http://www.jamielaurendesigns.com/spring-release
Media Contact: Jeff Mustard: 954-801-8263 | jeff(at)thebambooagency(dot)com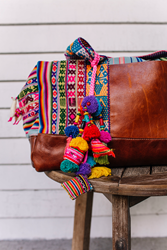 http://www.prweb.com/releases/2018/01/prweb15146036.htm
Note: We are not responsible for typo error, price change, substitute item, or available of item from online ads.