FoxDen Decor Now Offering 15% Discount on Rustic Furniture
Theo tin trong prweb.com
FoxDen Decor announces a site-wide discount on its online retail store.
CANUTILLO, TEXAS (PRWEB) JUNE 29, 2018
FoxDen Decor (https://www.foxdendecor.com/), an American leader in the making and selling of rustic and reclaimed wood furniture, announces a 15 percent discount on all the products in its online retail store.
"As FoxDen becomes even more recognized as the reliable place to purchase handcrafted solid wood furniture, the company felt it was time to give back to the patrons that have been so instrumental in helping to build and support the brand," says company spokesperson Jami Stewart. "To obtain a 15 percent discount, customers simply need to type the code 'happydays' when promoted during the checkout process."
The 'happydays' discount code applies to all the online retailer's products, including the newly expanded line of bar stools, the brand's famous bathroom vanities, wooden desks for the office, and more. As always, customers can choose from stock items, or completely customize an item of their choice.
To get a discount and to learn more about FoxDen Decor, visit the company online at foxdendecor.com/shop.
About FoxDen Boutique
We offer a great selection of all-wood furniture with styles ranging from reclaimed, door top, rustic, painted, cedar, barnwood and much more. A sister company to our popular FoxDen Decor brand, the boutique features our most popular and in-demand styles.
Contact Details:
Jami Stewart
7142 La Junta
Canutillo, TX 79835
Phone: 1-888-666-1113
Source: FoxDen Boutique
###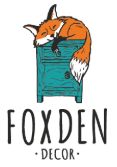 https://www.prweb.com/releases/2018/07/prweb15600044.htm
Note: We are not responsible for typo error, price change, substitute item, or available of item from online ads.