Spruce Up Launches to Make it Simple to Discover Your Style and Shop for Furniture and Home Décor with Confidence
Theo tin trong Spruce Up hay prweb.com
New online shopping service for all things home + design Spruce Up pairs home styling experts with AI to help you shop for "just the right thing."
SEATTLE (PRWEB) NOVEMBER 02, 2018
Spruce Up launched a new, personalized online shopping service today that pairs AI with home styling experts to help you discover your style and shop for the perfect home furnishings and decor with confidence. Spruce Up makes shopping for all things home and design quick and fun, starting with a simple data science powered quiz to capture your unique style profile and match you with a personal stylist to help you find key pieces for the home that's "all you."
"We have all experienced the decision fatigue of the 'endless scroll' when shopping for that perfect couch, pouf, or pendant light," said Mia Lewin, founder and CEO Spruce Up. "What we need is help sorting through all our favorite brands and styles to choose the right pieces and make them our own. Spruce Up provides the perfect pairing of a high-touch, specialty boutique service and selection, within a modern digital shopping experience, personalized to each customer and their home."
Today, Spruce Up customers have access to a personalized selection from tens of thousands of designer-curated items from more than 50 brands, mixing well-known main-street retailers with unique, hard-to-find brands from around the world. Some of these unique products include globally-sourced and vintage textiles by Memento Style, timeless nordic design made from ecological recycled materials by FinnPeaks, and artisanal collective produced modern home goods by Hawkins NY.
Spruce Up is the first company to bring together AI and stylist curation for one-to-one personalized ecommerce in the $100B home and design market. Spruce Up's style prediction algorithms comb through more than 20,000 designer-endorsed furniture, decor, and tabletop items, tagged with 1 trillion potential product variations based on style, color, form, materials, and other design attributes, and then matched to each customer's style profile. Spruce Up stylists then leverage intelligent workflow tools to hand-curate a 100% personalized, mini-boutique of 12 recommended items you can buy and have delivered to your door.
"There are millions of products for the home online today, but only Spruce Up combines artificial and human curation to enable one-to-one personalized ecommerce at scale, helping you surround yourself with the things that bring you joy," said Mike Dierken, founder and CTO of Spruce Up. "Stitch Fix applied AI to transform ecommerce for personal fashion, and we are doing the same to transform the way consumers buy furniture and home decor online."
Spruce Up customers are primarily busy, millennial professionals who shop online, but don't have time to browse through hundreds of websites to evaluate all available brands and mix and match various styles and price points. Spruce Up shoppers pay a $25 styling fee that is credited towards any item in their Spruce Up, when purchased within 14 days. Products are available for purchase with a click of a button and shipped direct to the customer. Take the Spruce Up style quiz and get your free style profile now at http://www.getspruceup.com
About Spruce Up
Spruce up is a new personalized online shopping service pairs AI with home styling experts to help you discover your style and shop for the perfect home furniture and decor products with confidence. The company is on a mission to create moments of joy for its customers in their homes – one item at a time. With Spruce Up, customers have access to 50+ well-known retailers and unique and new boutique brands to discover "just the right thing" for their home. Spruce Up founders and senior leadership have decades of experience in data science, ecommerce, and interior design at companies such as Amazon, eBay, West Elm, Williams Sonoma, and Anthropologie. Advisory Board members include Julie Bornstein, previously COO of StitchFix, and Hilary Billings, Brands Strategy Advisor and prior Board Member of Design Within Reach. Spruce Up is a spin out of Madrona Venture Labs, a Seattle based startup studio, and secured $1.5M pre-seed funding from Two Sigma Ventures, Madrona Venture Group, Female Founders Fund, Maveron, and Peterson Ventures in February 2018.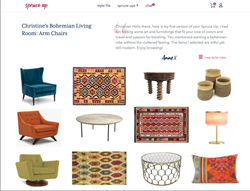 https://www.prweb.com/releases/2018/11/prweb15888044.htm
Note: We are not responsible for typo error, price change, substitute item, or available of item from online ads.