Theo tin Kovels.com trong prweb.com
Cherished family Christmas decorations may also be real treasures. The Kovels suggest keeping an eye out for these 5 vintage decorations.
CLEVELAND (PRWEB) DECEMBER 20, 2018
The antiques experts at Kovels.com have listed 5 vintage holiday decorations that are great collectibles. German immigrants brought the tradition of Christmas tree ornaments with them when they settled in America in the 1840s. Old Christmas ornaments are cherished for sentimental reasons and holiday beauty but they may also have monetary value. As you hunt for festive holiday decorations, the Kovels suggests keeping an eye out for these 5 vintage treasures:
1. Blown glass balls and figural ornaments. The most valuable are those made in Germany before 1940. Kugels (meaning "ball" in German) are thick glass handblown balls with a silvery patina that were made in Germany starting about 1830. They sell for the most money. Too heavy to hang on a tree, they were used to decorate other parts of a home. Thinner versions were made after 1855 and used as tree ornaments. After World War I, American makers began mass-producing glass ornaments and these sell for less. Look for those with metal caps marked Shiny-Brite, made from 1937 to 1960. Clever figural glass animals, birds, people, fruit, pine cones, icicles and vehicles are also desirable. Those in rare colors like red or amber are worth more.
2. "Dresden" ornaments are another favorite. They were made from about 1880 to 1910 in the Leipzig-Dresden area of Germany. They were not made of porcelain as one might think but dampened cardboard that was pressed into complex shapes (not always associated with Christmas), painted, and decorated with gilt, tin, tinsel and other trim. Look for shapes from angels and gnomes to Swiss chalets and zeppelins.
3. Vintage Christmas tree lights are gaining in popularity. Candles had long been used to light up trees, but by the 1880s, electric bulbs were tried but were dangerous. Tree lighting didn't become popular until after 1917, when safety bulbs were invented, and lights were put on strings. Collectors are drawn to midcentury examples like bubble lights (now being made again), candles and large teardrop shapes.
4. Santa is always the star. Collectors look for his likeness on ornaments, candy containers, toys and advertising in materials from cardboard and celluloid to papier-mache and tin. Especially desirable are Coca-Cola ads beginning in 1930 that feature Santa drinking Coke that helped shape America's image of Santa.
5. Newer decorations sure to be collector favorites are those with space-age "sparkle" like aluminum trees and garlands, modern and unique blown glass pieces, non-religious celebrity or event-related items and depictions of Christmas villages or nativity scenes made of wood, cardboard and pottery.
And don't forget the glass pickle! According to popular Christmas tradition, the first person to find the pickle hidden on the tree on Christmas morning will be blessed with good fortune and maybe an extra gift! Happy Holidays from the Kovels!
Terry Kovel is one of America's foremost authorities on antiques and collectibles. She is the well-known columnist and author of more than 100 books on antiques and collecting. The 2019 edition of Kovels' Antiques & Collectibles Price Guide is available at Kovels.com and local bookstores. This all-new 51st edition of Kovels' popular annual price guide features 16,000 prices and more than 2,500 photos, larger than ever before, on items in categories most sought-after by collectors. New this edition – 300 marks to help identify and date pottery, porcelain, glass and other collectibles. Terry Kovel will discuss antiques and collectibles topics with accredited media. Photographs are available. Contact pr(at)kovels(dot)com.
About Kovels.com
Kovels.com, created by Terry Kovel and her daughter, Kim Kovel, provides collectors and researchers with up-to-date and accurate information on antiques and collectibles. The company was founded in 1953 by Terry Kovel and her late husband, Ralph. Since then, the Kovels have written some of America's most popular books and articles about antiques, including the best-selling annual Kovels' Antiques & Collectibles Price Guide. The website, Kovels.com, online since 1998, offers more than a million free prices, and includes a free weekly email, "Kovels Komments." It gives readers a bird's-eye view of the market through the latest news, auction reports, a Marks Dictionary, readers' questions and answers and much more.
Contact Information:
Liz Lillis
216.752.2252
Pr(at)kovels(dot)com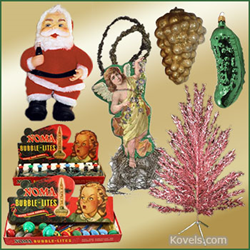 https://www.prweb.com/releases/kovels_top_5_collectible_christmas_decorations/prweb15997841.htm
Note: We are not responsible for typo error, price change, substitute item, or available of item from online ads.