Resident Design Announces its Holiday DIY Paper Animal Kit Line
Theo tin WatermarkPointe trong prweb.com
Pittsburgh-based business specializes in unique paper animal kits for all ages
PITTSBURGH (PRWEB) DECEMBER 05, 2018
New paper animal kits have been added to Resident's product line to offer more options for holiday shopping.
Products vary from beginner to expert paper craft kits to satisfy a variety of skill levels and creativity needs. Each product page includes a specific description and level of difficulty to ensure you purchase the design you like but also at the appropriate skill level.
What comes in the kits? Everything you need to successfully build each paper sculpture! It includes all of the cut and scored pieces, glue, a practice piece (which you build into a whale along with a video on the assembly page), and a tool to help with folding and gluing.
Resident was founded on creativity and a passion for hands-on building. Tristan, Resident's founder, has always had a knack for design, making things with his hands since elementary school. With a degree in Architecture, he began working for a few mid-sized startups in 2011 while creating his paper designs on the side. Once he was satisfied with the quality and style of his DIY animal kits, he felt confident enough to branch out on his own and pursue his paper craft passion full time. Tristan set out to make paper craft modeling accessible to all interests and skill levels. Combining his love for architecture, high quality design, and paper, Resident Design was born.
Since its inception in 2015, Resident has fulfilled more than 5,000 orders, filling people's homes with modern DIY decor. Drawing inspiration from his customers, Tristan is constantly expanding his product lines to fulfill everyone's wildest paper craft dreams. Resident has an expansive product line ranging from a DIY Panda all the way to a DIY Parasaurolophus kit. Tristan envisions his designs as a way to get people away from their desk and to feel the satisfaction of creating something with their hands, whether it be alone or as a means of bringing people and families together. Everyday he works to make his animal kits easier and more fun while keeping the quality of design as high as possible.
Resident is offering a free $10 gift card for all orders over $100 & free shipping for the holidays.
Want to check out the paper animal kits in person? Resident is exhibiting at One of a Kind Show in Chicago from December 6th-9th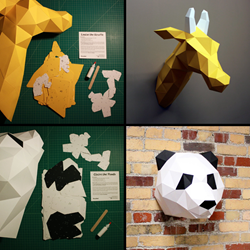 https://www.prweb.com/releases/2018/11/prweb15915916.htm
Note: We are not responsible for typo error, price change, substitute item, or available of item from online ads.