Một cách để mua sắm giường ngủ, khăn trải bàn và nhiều thứ khác theo phong cách của bạn
Theo tin trong Spoonflower hay prweb.com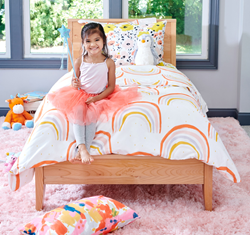 A Revolutionary Way to Shop for Bedding, Table Linens & More That Are Just Your Style
Take your pick of over 1 million designs on Spoonflower's new home decor product line
DURHAM, N.C. (PRWEB) JULY 23, 2019
For over ten years, Spoonflower has been the go-to destination for custom-printed fabric and wallpaper that expresses your personality. Today, the online retailer introduced home decor products as a revolutionary way to soften up spaces you love with unique patterns you won't find anywhere else. Spoonflower's home decor line launches with bedding and select table linens, with more products to follow in fall 2019.
"Shoppers are increasingly interested in expressing their personal taste through home goods, but don't have the time or means to sew them," said Allison Sloan Polish, Spoonflower President. "By pairing home decor products with the Spoonflower Marketplace of over 1 million designs, we're making it possible for everyone from adults to kids to have their rooms, their way—from beautiful and traditional to quirky and niche."
The bedding collection offers 100% cotton sateen woven in Italy and features a high-quality single-ply 300 thread count fabric that softens with every wash to deliver a comfortable night's sleep. Apply any designs to duvet covers ($159+) and sheet sets ($179+), and complete the look with pillow shams ($34+). Industry-favorite home style bloggers including I Spy DIY, The House That Lars Built, and Yellow Brick Home have showcased how easy it is to mix and match bedding designs to create a completely custom look.
You can also turn everyday dining or themed gatherings into something extraordinary with beautiful 100% cotton sateen table linens. With an unlimited choice of patterns, hosts can decorate their table with creative, durable tablecloths ($89+) and table runners ($49+). The table linen and bedding collections join Spoonflower's lineup of more than 20 fabrics—including knits and wovens in cotton, organic and polyester fiber options—and three wallpapers.
Spoonflower sets itself apart in its commitment to sustainability, from supporting artists' livelihood to reducing ecological impact. Over 20,000 independent designers from 51 countries contribute to the vast Marketplace of designs, and Spoonflower supports this creative community by directing up to 15% of each purchase straight to the artist. In addition, every home product is custom made to order with no leftover waste. The fabric is printed in a small factory in Durham, North Carolina, with pigment inks that are Oeko-Tex® certified, meaning they are free from harmful chemicals or substances. A talented group of sewists in the U.S. stitches up the products by hand, and your order is delivered to your door in just a matter of weeks.
To see the creative possibilities for yourself, visit Spoonflower.com.
ABOUT SPOONFLOWER
Spoonflower is the world's first web-based service for custom, on-demand fabric and home goods creation. With Spoonflower, anyone can design, print, and sell their own fabric and wallpaper. Customers can either design their own patterns or shop from Spoonflower's Marketplace of on-trend and niche designs. Since 2008, the Spoonflower community has grown to over 4.5 million individuals who use their own designs and the Marketplace to make curtains, quilts, clothes, bags, furniture, dolls, pillows, framed artwork, costumes, banners and much, much more. With over one million designs—and more added every day—the Spoonflower Marketplace is the largest collection of independent surface pattern designs and designers in the world.
Press Contact:
Sarah Ward
Senior Vice President of Marketing at Spoonflower
Email: press@spoonflower.com
Note: We are not responsible for typo error, price change, substitute item, or available of item from online ads.
https://www.prweb.com/releases/a_revolutionary_way_to_shop_for_bedding_table_linens_more_that_are_just_your_style/prweb16458135.htm