Lifestyle Furniture Company Four Hands Designs for Growth with Centric PLM
Theo tin trong Spoonflower hay prweb.com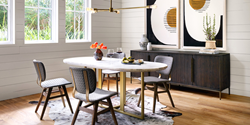 Lifestyle furniture company selects Centric Software PLM to streamline product development and support growth
CAMPBELL, CALIF. (PRWEB) JULY 23, 2019
Four Hands, a leading designer and global importer of trendsetting lifestyle home furnishings, has selected Centric Software's Product Lifecycle Management (PLM) solution, to streamline its product development and bolster growth. Centric Software provides the most innovative enterprise solutions to fashion, retail, footwear, outdoor, luxury and consumer goods companies to achieve strategic and operational digital transformation goals.
Four Hands was founded in 1996 and is based in Austin, Texas, and has become the go-to brand for some of the country's top retailers creating home furnishings in various categories, including Furniture, Art, and Lighting & Decor. As a global designer, manufacturer, wholesaler, and retailer of innovative lifestyle home furnishings and accessories, the company has established a loyal customer following of notable retailers such as West Elm, Crate & Barrel, and Restoration Hardware, among others.
Four Hands has experienced double-digit growth in recent years and began a strategic initiative to invest in technology to support their rapid expansion, including the selection and implementation of best-of-breed enterprise systems and enhancement of its B2B e-commerce capabilities.
"We were working with antiquated software systems, Excel and email," explains Douglas Estremadoyro, Vice President of Business Innovations at Four Hands. "As our sales grew, the number of products we were making soared. We went from a few hundred new product introductions a year to close to 4,000. We expect that number to keep growing as we introduce new product categories to our lineup. Our existing systems were pushed to the limit. We needed a modern, flexible, scalable system that could support our growth."
Four Hands rigorously assessed several PLM vendors before selecting Centric 8 PLM.
"Our user group selected Centric because of its functionality and support for our processes," says Estremadoyro. "The technology behind Centric PLM is extremely desirable, and the cloud-based, subscription-based model is ideal. During the sales process, the Centric team were very responsive, professional and efficient, providing us with all the information we needed."
"Centric PLM will give us a central hub for product development from inspiration all the way to sourcing and testing. Having a single version of the truth will enable us to communicate and collaborate faster so we can continue to grow. We're excited about using Centric PLM and early user feedback has been very positive."
"We are delighted to welcome Four Hands as our first customer in the furniture market," says Chris Groves, President and CEO of Centric Software. "We like to push the boundaries of what PLM can do, learning and innovating based on customer needs, and we're looking forward to working with Four Hands to support their growth."
Request a Demo
Four Hands (http://www.fourhands.com)
Based in Austin, Texas, Four Hands is a leading designer and global importer of trendsetting lifestyle home furnishings. They have earned a reputation for expertly blending styles, materials, and textures from diverse corners of the world to create distinct pieces for the home. Receiving numerous recognitions and accolades for their business acumen, including ranking in the Inc. 5000 list thirteen times, Four Hands is one of the most dynamic companies in the furniture industry today. Founded in Austin in 1996, the business has grown to include offices in Vietnam, China, India, and the United States and showrooms in High Point, North Carolina, Las Vegas, Nevada, and Austin, Texas. Through their international presence, Four Hands has a finger on the pulse of how the world is shaping the way we decorate our dwellings. The company enthusiastically supports the growing needs of large retail chains – such as Crate & Barrel, West Elm, Pottery Barn, TJ Maxx, Restoration Hardware – as well as independent regional stores, and interior designers. Introducing over 900 new product styles each year, customers have access to more than 1,500 design-forward products from over 50 collections, spanning all home furnishing categories – from living and dining room, to art and lighting, and everything in between. http://www.fourhands.com
Note: We are not responsible for typo error, price change, substitute item, or available of item from online ads.
https://www.prweb.com/releases/lifestyle_furniture_company_four_hands_designs_for_growth_with_centric_plm/prweb16453069.htm