Chinese Porcelain and a Collection of Mid-Century Japanese Studio Ceramics at Kaminski Auction August 17th & 18th
Theo tin trong Kaminski Auctions hay prweb.com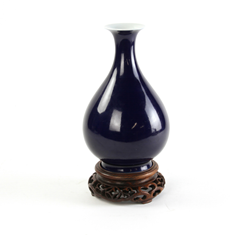 Our August Asian and Estates Auction features important Chinese art, porcelain, scrolls, furniture, and an outstanding collection of mid-century Japanese studio ceramics acquired by a lifelong New England collector from the Frank Caro Gallery, the successor to C.T. Loo & Copa.
BEVERLY, MASS. (PRWEB) AUGUST 06, 2019
Kaminski Auctions presents an extensive collection of Chinese porcelains from a Wellesley, Massachusetts collector in its August 17th and 18th sale. A Chinese 'sacrifice blue' porcelain Yuhuchun vase, also known as a sapphire blue glaze, with the Yongzheng and double ring mark on the base is the prized lot of the collection. The vase measures 9 ¼ inches high and is on a carved wood stand. The vase was purchased in Hong Kong in the 1990s.
Historically, this color of Chinese porcelain was used by the Royal family to make sacrifices to the gods in heaven.
Another piece from the Wellesley collection is a Chinese lemon yellow-glazed porcelain teacup with white glazed interior and a blue and white Yongzheng mark on the base. It is presented on its' original carved hardwood stand and valued at $10,000-$30,000. Another exceptional lot from the Wellesley collection is a pair of 18th-century Chinese enamel-on-porcelain bowls with the interior and exterior decoration having five-clawed flying dragons in a copper-red color with under-glazed blue and white clouds around the dragons, and the mark of Jing Wei Tang Zhi on the base. The matching bowls were also purchased in Hong Kong in the 1960s and are estimated to bring $8,000-$12,000.
Chinese porcelain from the collection continues with a pair of Chinese celadon glazed porcelain bowls with the blue and white Daqing Daguang Nianzhi mark on the base valued at $4,000-$8,000
There are several impressive Buddha's in the sale, starting with a 13th to 14th century Chinese Ming bronze, cross-legged seated Buddha figure on a lotus throne. The bronze figure has two hands holding a multiplier. On the base is a carved flower mark, and in the front of the Buddha is a carved Ming Yongle mark. Another, significant 18th-century Sino-Tibetan gilt bronze Buddha figure is portrayed standing on a lotus stand with four-arms. It is valued at $6,000-$9,000. A gilt-bronze Buddha figure offered as lot # 2136, is seated cross-legged, seated on a stand held by lions, with both hands in the Buddhist position. It stands 9 ½ inches in height and is from a Georgia collection. It is estimated to bring $5,000-$8,000.
The sale continues with Chinese jade. An 18th-century carved white jade boat, with carved figures rowing, sits on a zitan wave-shaped stand. It is estimated to bring $5,000-$8,000. Also, on offer is a Chinese spinach-green jade censer decorated with the Taotie pattern, estimated in the same range.
Other items of interest include a Chinese Qing carved gilt bronze bell with Chinese characters and a carved double dragon handle on top and flying dragon design around the body valued at $5,000-$8,000. There is also a large selection of Famille Rose porcelain.
Chinese furniture highlights include a carved Zitan table, a large Chinese huanghuali wood cabinet, and a 17th-century Chinese Tang Dynasty Luo Han huanghuali wood bed.
In addition to the vast collection of high-end Chinese antiques from a Connecticut estate, comes a group of Japanese ceramics and Chinese antiques from the Frank Caro Gallery formerly the gallery of C.T. Loo the Chinese art dealer.
Among the more unusual items is a 19th-century Japanese vanity box with mother-of-pearl inlay, a 19th-century Japanese carved bone table screen with wood box, a Chinese Republic Period vase, and an antique Chinese scroll, with scroll weights in a wood box. There is also a collection of mid-century studio Japanese ceramics and bronzes. All were purchased by the consignor from Frank Caro, the successor to C.T. Loo.
Fine art in the sale includes an abstract painting that bears the signature of Max Ernst, a Moses Soyer reclining nude, an E. L. Kinloch, neoclassical Roman view, an Aldro Hibbard winter scene, and a Henri de Toulouse-Lautrec, pencil drawing of two gentlemen, from a Florida estate.
Jewelry highlights feature a double-strand South Sea pearl necklace with 14-carat yellow gold clasp together with a matching double-strand bracelet, and another South Sea pearl necklace with 18-carat yellow gold clasp measuring 24 ½ inches long from a Kaunakakai, Hawaii collection.
Furniture in the auction features an 18th-century English Chippendale chest-on-chest highboy from a Beverly, Massachusetts collection and an 18th-century Irish Chippendale mahogany console table from a Palm Beach, Florida estate.
Preview hours for the auction are Monday-Friday, August 12th-16th, 10:00AM-5: 00 PM, 8:00 AM on the days of the sale, and preview is open while the auction is live. For more information, go to http://www.kaminskiauctions.com and sign up to bid with KaminskiLIVE.
Note: We are not responsible for typo error, price change, substitute item, or available of item from online ads.
https://www.prweb.com/releases/chinese_porcelain_and_a_collection_of_mid_century_japanese_studio_ceramics_at_kaminski_auction_august_17th_18th/prweb16485365.htm