Lily Designs tổ chức Fall Open House cho trang trí mùa thu từ 10 giờ sáng đến 4 giờ chiều vào thứ Bảy, ngày 14 tháng 9 năm 2019
Theo tin trong Linly Designs hay prweb.com
The Most Exquisite Selection of Fall Decor in the Chicagoland Area Only at Linly Designs
Renowned for extraordinary fall seasonal décor and custom floral arrangements, Linly Designs invites the public to their Annual Fall Open House.
"Nothing is ordinary. Everything is unique. Our clients love the idea of having pieces that no one else has." says Janet Linly
CHICAGO (PRWEB) AUGUST 15, 2019
Peruse the most exclusive selection of luxury fall décor in the Chicagoland area at Linly Designs during their Fall Open House event on Saturday, September 14th, 2019. Linly's Clarendon Hills showroom hosts over 11,000 square feet of sophisticated home accessories and fine furniture, which will be complimented with beautiful décor for the upcoming fall months.
Be one of the first to gain access to this year's collection, as Linly Designs promises their most enticing selection of fall decorations yet. From dazzling hand-embellished pumpkins & tabletop accessories to remarkable floral arrangements & centerpieces boasting the rich colors of autumn, these highly sought-after pieces won't last long. Customers may bring home a one-of-a-kind embellished item or a silk floral arrangement from a huge selection which will be displayed during the Open House. Client's will also have the opportunity to work with their talented, in-house floral designer to select colors and flowers to create a custom arrangement just for them.
The design firm has celebrated a successful year thus far, including being invited to join the Forbes Chicago Business Council, becoming the only interior design firm to be featured in the publication of Harry & Meghan: Our Royal Baby, and recently announcing their spotlight feature in Exploring the Extraordinary: 100 Years of Bentley Motors. They anticipate the remainder of the year to be equally successful as they look forward to the upcoming Fall Open House and future endeavors.
The event is to be held on Saturday, September 14th, 2019 at Linly Designs from 10:00am to 4:00pm. The public is invited to enjoy lattes and fresh baked cookies while browsing the exceptional showroom and new luxurious fall decorations. For more information and directions, please visit event page here
About Linly Designs
Linly Designs offers a full range of high-end interior design services to create luxurious and refined living spaces. They are the only US-based design firm featured in Harry & Meghan – The Wedding Album. Linly Designs offers clients distinctive, timeless pieces that cannot be found anywhere else. For more information, please visit http://www.LinlyDesigns.com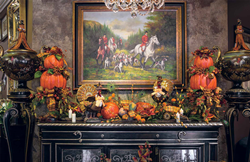 Note: We are not responsible for typo error, price change, substitute item, or available of item from online ads.
https://www.prweb.com/releases/the_most_exquisite_selection_of_fall_decor_in_the_chicagoland_area_only_at_linly_designs/prweb16503856.htm