Bản tin Cổ vật & Sưu tầm tháng 9 năm 2019 của Kovels
Theo tin trong Kovels.com hay prweb.com
Kovels On Antiques & Collectibles September 2019 Newsletter Available
Featuring Amphora pottery, Max Ingrand lighting, Stickley furniture, Orrefors glass and quilts, as well as a special "Buy & Sell" report on vinyl records, Kovels On Antiques & Collectibles newsletter is full of photos, information, tips and prices. Kovels' September 2019 newsletter is now available in print and digital versions.
CLEVELAND (PRWEB) AUGUST 30, 2019
Amphora pottery auctioned in Pennsylvania is featured in a sale report in Kovels On Antiques & Collectibles September 2019 newsletter. Amphora pottery was made during the turn of the century in the Turn-Teplitz region of Bohemia, and is known for unusual shapes, striking glazes and cleverly executed art nouveau decoration. See the auction's top price Amphora vase with a figural dragon draped around the top that sold for $9,600. Other pictured pieces feature long-haired maidens, moths, spider webs, frogs and vines.
The spotlight was on lighting by Max Ingrand at a New York City auction. Ingrand, a French stained-glass artist and decorator, is noted for his modern, innovative design and use of textured glass. Kovels' September newsletter pictures an Ingrand ceiling light of chiseled and opaque glass that auctioned for more than $100,000, his "Dahlia" chandelier with cut, curved and colored glass "petals" that brought $35,000, as well as other pieces he designed for the Italian company Fontana Arte.
A California auction offered more than 100 lots of Stickley furniture It included pieces by the five Stickley brothers who learned skills at an uncle's furniture company before starting their own businesses, working in various partnerships. A sideboard by Leopold and John George (L. & J.G.) Stickley was the most expensive piece at $8,400. Find more pieces by L. & J.G., Gustav, and the other Stickley brothers in Kovels' September issue.
Sculpted glass vases made by Orrefors of Sweden sold at auction in Cincinnati and Kovels' highlights a handful of examples made in the 1950s using the company's Ariel technique. Unique to Orrefors, the method trapped air bubbles while encasing the colored glass. The prices ranged from $200 to $1,000; pictures are in the September issue. And collectors are always crazy for quilts where fabric, frugality and friendship combine to make practical, colorful coverings. Find late 18th- and early 19th-century quilts in popular patterns along with their prices in the latest Kovels' newsletter.
A special article on the vinyl music records market discusses how to research, price, buy and sell vintage singles and albums. Kovels' popular illustrated Collector's Gallery answers readers' questions about a stoneware crock, a glass "parade cane," an English lamp table and a Tiffany silver tray. The September Dictionary of Marks identifies and dates marks used by Orrefors Glassworks. And more than 70 antiques and collectibles are listed in the September Buyer's Price Guide.
Kovels On Antiques & Collectibles is available as a print subscription, or as a digital version that is part of the Kovels.com Premium subscription.
Terry Kovel is one of America's foremost authorities on antiques and collectibles. She is the well-known columnist and author of more than 100 books on antiques and collecting. The 2019 edition of Kovels' Antiques & Collectibles Price Guide is available at Kovels.com and local bookstores. This 51st edition of Kovels' popular annual price guide features 16,000 prices and more than 2,500 photos, larger than ever before, on items in categories most sought-after by collectors. New to this edition – 300 marks to help identify and date pottery, porcelain, glass and other collectibles. Terry Kovel will discuss antiques and collectibles topics with accredited media. Photographs are available. Contact pr(at)kovels(dot)com.
About Kovels.com
Kovels.com, created by Terry Kovel and her daughter, Kim Kovel, provides collectors and researchers with up-to-date and accurate information on antiques and collectibles. The company was founded in 1953 by Terry Kovel and her late husband, Ralph. Since then, the Kovels have written more than 100 books and hundreds of articles about antiques, including the best-selling annual Kovels' Antiques & Collectibles Price Guide. Their nationally syndicated antiques and collectibles newspaper column is distributed by King Features Syndicate to many newspapers nationwide. Terry and Ralph starred in television series on PBS, the Discovery Channel, and Home & Garden Television (HGTV). The website, Kovels.com, has been online since 1998. It offers more than a million free prices, and includes a free weekly email called "Kovels Komments," giving readers a bird's-eye view of the market through the latest news, auction reports, a Marks Dictionary, readers' questions and answers and much more.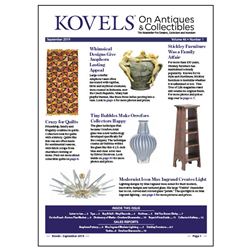 Note: We are not responsible for typo error, price change, substitute item, or available of item from online ads.
https://www.prweb.com/releases/kovels_on_antiques_collectibles_september_2019_newsletter_available/prweb16539527.htm