Afloral.com ra mắt hơn 200 hoa khô và cỏ được bảo quản để đáp ứng xu hướng trang trí nhà và đám cưới mới cho năm 2020
Theo tin trong Kovels.com hay prweb.com
Afloral.com Launches Colorful Dried Flower Line to Introduce 2020 Trend
Afloral.com releases over 200 dried flowers and preserved grasses in response to new wedding and home decor trend.
JAMESTOWN, N.Y. (PRWEB) SEPTEMBER 10, 2019
Afloral.com, premier online artificial flower retailer, is excited to announce the release of over 200 dried flowers and preserved grasses to their e-commerce site. In response to the burgeoning dried flower and grass trend in both the wedding and home decor markets, Afloral has sourced the highest quality naturals and innovated custom dyed products in an exclusive brand pink. Preserved palms, bunny tail, and gypsophila pop in this trendy color.
With the most extensive inventory of uniquely colored dried florals and grasses on a single site, Afloral is excited to catapult their brand name into a new, but quickly growing market.
"We've added 50% more dried product to our line since 2018. We saw the trend coming years ago, sourced the highest quality blooms from farms we trust, and innovated custom colors in products we knew would be trending like palms and pampas," says Afloral creative director LeAnne Samuelson. Afloral's "brand pink," soft pastels, and a plethora of bright, neon shades complement the vast array of natural products available online.
As a premier silk flower distributor for over 25 years, Afloral's dried product compliments their extensive inventory of artificial flowers, live and fake houseplants, and wedding and home decor goods. "Dried product paired with silk is so interesting! For years we've seen muted tones, but by using dried in these bright colors, you're able to set yourself apart as a designer," says influential floral designer Sarah Campbell from Intrigue Designs.
Floral designers, wedding and event studios, and interior designers are among the vast consumer network demanding high quality dried flowers and grasses at a low price. "We're constantly sourcing new product, connecting with future farms, and creating custom colors you can't find anywhere else. The demand for dried is there, and we're excited to be at the front of it with the best prices possible," says Afloral head buyer, Melanie MacIntyre.
As the authority in silk flowers for over two decades, Afloral continues to innovate in this new market through a lens of experience and expertise. For more information about Afloral, please visit Afloral.com or contact Content Manager, Meg Callahan at content@afloral.com. Follow us @afloral.
###
About Afloral.com
It all started as a wholesale floral shop. Enter an innovative female CEO, a strong team of creatives, and an opportunity – the internet. Afloral launched online in 1996. As Afloral grew, the team listened – expanding to meet all your design needs. The company has seen the evolution of artificial flowers, weddings, and home decor, and has traversed the globe for the highest quality products. As a team of everyday floral enthusiasts, DIY fanatics, and proud plant-parents, Afloral's focus is on fake flowers, for real life. With affordable handpicked goods, they make design easy, leaving you time for the important stuf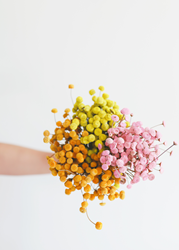 Note: We are not responsible for typo error, price change, substitute item, or available of item from online ads.
https://www.prweb.com/releases/afloral_com_launches_colorful_dried_flower_line_to_introduce_2020_trend/prweb16560385.htm