Công ty Oriental Trading Company mời mọi người "Get Your Skeletons Out of the Closet Day" vào thứ Sáu ngày 13 tháng 9 năm 2019
Theo tin Oriental Trading Company hay prweb.com
Oriental Trading Company Hosts "Get Your Skeletons Out of the Closet Day" on Friday the Thirteenth
OMAHA, NEB. (PRWEB) SEPTEMBER 05, 2019
With Halloween just around the corner, Oriental Trading Company is inviting everyone to "Get Your Skeletons Out of the Closet Day" on Friday, September 13, 2019.
This dreadfully fun holiday was created by the company as a way to give Halloween super-fans an early green light to let their creativity come to life. And with an eerie Friday the 13th falling just six weeks before Halloween this year, there's no better day to kick off the spooky season!
On September 13, more than 100 crafty and creative influencers will provide spooky and sweet inspiration with Oriental Trading's entire skeleton collection as they show how they decorate for the season. You will see a wide array of ideas ranging from a rainbow painted unicorn skeleton to a medieval scene, complete with a fire-breathing dragon skeleton. To make it easy for you to create your own creative and creepy scene, Oriental Trading will be offering a one-day flash sale with up to 60% off skeletons and free shipping on any order!
As the official Halloween Hauntquarters, Oriental Trading's closet is FULL of hundreds of budget-friendly skeletons and Halloween decorating and DIY ideas that are sure to make your house the best on the block.
"As our skeleton décor has grown in popularity, we've more than doubled our exclusive items this year for our customers," said Brian Moen, Chief Merchandising and Marketing Officer. "One of my favorites is the two-headed life-size posable skeleton. You can decorate it into a creepy scene or give it a little humor by positioning it in a selfie pose. Either way, trick-or-treaters will get a kick out of it!"
Straight from an old mythical tale, your front yard can come to life with a graveyard of unique unicorn, dragon, and mermaid skeletons from Oriental Trading that will make the kids squeal with glee (and maybe just a little fright)! Plus, you can lay to rest those questions as to whether this trio of fantasy creatures really existed because you'll have the boney remains to prove it!
Get creative with your skeleton decorations and create an entire family for your front porch. Oriental Trading has skeleton animals from dogs to frogs, pigs to monkeys, and just about every animal in between, so you're sure to find the perfect creepy creature for any skeleton family.
"Our customers look to us for unique and exclusive products. The success of last year's life-sized mermaid skeleton showed us that they want to break out of normal, everyday Halloween décor like simple black cats and spiders," Moen said. "We have over 800 Halloween décor items online so our customers can make their holiday both creative and affordable."
Dust off those Halloween decorations, pull those skeletons out of the closet (or order new ones from Oriental Trading) and start the Halloween season with Get Your Skeletons Out of the Closet on Friday the 13th of September!
About Oriental Trading Company (A Berkshire Hathaway Company)
Oriental Trading Company is the nation's largest direct retailer of value-priced party supplies, arts and crafts, toys and novelties, and a leading provider of teaching supplies and affordable home décor and giftware. Recognized as one of the Top 100 Online Retailers and one of the Top 50 Catalog Companies, Oriental Trading Company employs approximately 1,800 employees and offers more than 40,000 products to individuals, teachers, schools, churches, businesses and nonprofits. From pink flamingos and grass skirts to holiday decorations and craft supplies, Oriental Trading Company makes the world more fun! orientaltrading.com.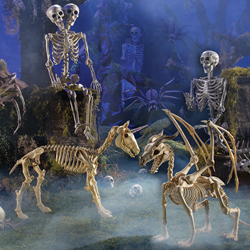 Note: We are not responsible for typo error, price change, substitute item, or available of item from online ads.
https://www.prweb.com/releases/oriental_trading_company_hosts_get_your_skeletons_out_of_the_closet_day_on_friday_the_thirteenth/prweb16547661.htm