Cardboard Safari bán cây Bracht Holiday Trees có sẵn khi chọn loại bìa cứng, bạch dương và lá kim loại cho mùa lễ Giáng Sinh năm 2019
Theo tin trong Cardboard Safari hay prnewswire.com
Cardboard Safari Releases New Line of Holiday Trees, available in cardboard, birch, and metallic foil options.
Cardboard Safari has created a new line of mid-century modern Holiday Trees.
CHARLOTTESVILLE, VA. (PRWEB) OCTOBER 23, 2019
For the 2019 Holiday season Cardboard Safari has created a new line of mid-century modern Bracht Holiday Trees. These trees are easily assembled and are sure to become a holiday favorite the whole family will enjoy constructing and decorating year and after year. The perfect display for home or office and it makes a great gift.
Bracht Holiday trees are available in birch plywood, a variety of printed and unprinted cardboard, as well as a range of metallic foils. The trees come in three sizes: 16", 28" and 6.5′ tall versions for a stunning holiday decoration that can fit in any size space.
Variations include a slotted version to hold Holiday cards and metallics that shimmer brilliantly under light. Bracht can be internally lit using low temperature LED lights for a stunning mid-century modern style. Bracht is perfect as a unique accent to your holiday decor.
As with all of our products, our trees are made from eco-friendly and sustainably sourced materials, created and manufactured in Charlottesville, Va. USA. Need a custom color, pattern or size, please contact us at info@cbsafari.com for details. Packaged flat for shipping: includes detailed instructions. One tree per package.
Patent Pending.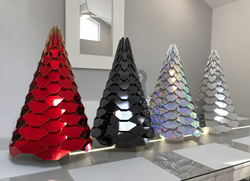 https://www.prweb.com/releases/cardboard_safari_releases_new_line_of_holiday_trees_available_in_cardboard_birch_and_metallic_foil_options/prweb16576584.htm
Note: We are not responsible for typo error, price change, substitute item, or available of item from online ads.