Những điều bạn cần biết về 7 xu hướng thiết kế nhà khi muốn cá nhân hóa ngôi nhà cho năm 2020
Theo tin trong Organized Living hay prweb.com
What You Need to Know About Home Design Trends for 2020
Take personalization to the next level with these seven home design trends for 2020 from the trend experts at Organized Living.
CINCINNATI, OHIO (PRWEB) NOVEMBER 06, 2019
68% of homebuyers want to personalize their home, according to a recent Meyers Research study. Homebuyers are paying attention to every detail in the home from the storage options to the electrical outlets to the hardware in the guest bath. The trend experts at Organized Living understand that details matter and are here to help you satisfy homebuyers' wish lists with seven design trends homebuyers care about and are willing to invest in.
Natural Elements
Fresh, natural materials such as stone, copper and granite are continuing to make their appearance as they create an organic ambiance throughout the home. Having natural elements in the home brings serenity that homebuyers are seeking to escape from their hectic lives.
Hidden Storage
79% of homebuyers want more storage than builders provide, according to the National Association of Home Builders. Storage solutions are often being disguised underneath furniture or behind doors, blending seamlessly into the home decor. It's the perfect inconspicuous solution for homebuyers who prefer a clean, sophisticated space.
Velvet
Creatively incorporating velvet décor in the home provides a luxurious feel homebuyers desire. From couches to curtains, the smooth material is comforting and creates an elegant touch to the home décor.
Jewel Tones
Utilizing jewel-tones throughout the home is a trend with staying power. It makes for a warm, luxurious feel that is unique to the homebuyer when used in the bedrooms and home offices. Organized Living's shelving finish, Century Gray is a stunning companion color to the rich and saturated jewel-tone color trend homebuyers are fixated with.
Floral Patterns
Making a comeback, floral patterns are in full-bloom once again but in exaggerated proportions. Whether it's beautiful wallpaper, bedding or accent pillows, homebuyers are seeking creative ways to flourish the home.
Wall Color
Homebuyers are looking for a paint color that creates a bold statement in the home. Sherwin Williams announced Naval as the 2020 color of the year. Encompassing an entire room, the rich navy creates a calm grounding environment that pairs nicely with gold accents.
Mixed Metals
Mixed metals are still in popular demand as homebuyers are experimenting with bold combinations of brass, matte white and black, silver, and copper accents. This trend has allowed homebuyers to have more freedom and options when selecting finishes throughout the home.
However you incorporate these trends into the homes you design and build, Organized Living is here to help. With the most integrated use of technology in the storage and organization category and the latest on market research and trends. Organized Living is committed to leading the way in storage and organization.
About Organized Living
Organized Living brings superior storage and organization to the world through strong products, strong people and strong brand, helping people organize their lives. From the closet to the kitchen to the garage, Organized Living offers high-quality, innovative storage and organization products that make everyday life easier and sells through professionally installing dealers across US and Canada, retailers and online retailers. http://www.OrganizedLiving.com.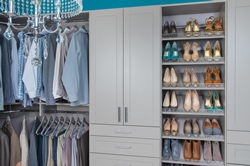 https://www.prweb.com/releases/what_you_need_to_know_about_home_design_trends_for_2020/prweb16697217.htm
Note: We are not responsible for typo error, price change, substitute item, or available of item from online ads.