Theo tin Spoonflower hay prweb.com
Made For Good: How Spoonflower and Its Maker Community Are Giving Back This Holiday Season
Every Tuesday, the online retailer is donating 15% of its home decor sales to charities supported by featured makers.
DURHAM, N.C. (PRWEB) OCTOBER 14, 2019
Spoonflower, the world's largest custom fabric and home decor online marketplace, is proud to announce its Made For Good campaign, giving new meaning to #GivingTuesday this holiday season. From October 1, 2019 – February 4, 2020, Spoonflower will highlight a different charitable organization every Tuesday and donate 15% of the day's home decor sales to that cause. Many of the charitable partnerships were chosen by members of Spoonflower's designer community in support of causes that they're passionate about, from children's health to dementia research. Others are local organizations with a connection to Spoonflower team members, from cancer support with JUST TRYAN IT (Bethesda, MD), to food security with A Place at the Table (Raleigh, NC), and social justice with the LGBTQ Center of Durham (Durham, NC). Through these collaborations, our products are not only made for bringing color and style to a home, but also made for a better world— made for education, made for clean water, made for a cure.
Anyone can participate in the Made For Good campaign by jumping into action each Tuesday to purchase your favorite designs on bedding, dining or home goods. From table linens and sheet sets to throw pillows and curtains, 15% of every home decor order will go directly to making a difference for that week's worthy cause. You can learn more about the organization—how it works for good and what makes it special to our community—by following Spoonflower on Instagram or visiting the Spoonflower blog.
The Made For Good campaign is an extension of the mission that drives Spoonflower every day: creating products that are made to bring color and style into your home, while also revolutionizing the traditional textile industry with non-toxic products and low-waste processes, as well as empowering a living for artists and makers. While most products you buy are removed from the designer, Spoonflower enables home decor shoppers to meet the independent artist behind every design and support their stories. This campaign seeks to harness that spirit of collaboration between designers, makers, decorators, DIY fans and crafters to make a difference for those in need.
To learn more about the Made For Good campaign, follow Spoonflower on Instagram, where the makers and their charities will be featured.
ABOUT SPOONFLOWER
Spoonflower is the world's first web-based service for custom, on-demand fabric and home goods creation. With Spoonflower, anyone can design, print, and sell their own fabric and wallpaper. Customers can either design their own patterns or shop from Spoonflower's Marketplace of on-trend and niche designs. Since 2008, the Spoonflower community has grown to over 4.5 million individuals who use their own designs and the Marketplace to make curtains, quilts, clothes, bags, furniture, dolls, pillows, framed artwork, costumes, banners and much, much more. With nearly one million designs—and more added every day—the Spoonflower Marketplace is the largest collection of independent surface pattern designs and designers in the world.
Press Contact:
Sarah Ward
Senior Vice President of Marketing at Spoonflower
Email: press@spoonflower.com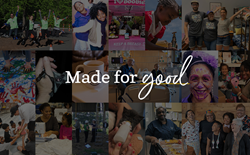 Note: We are not responsible for typo error, price change, substitute item, or available of item from online ads.
https://www.prweb.com/releases/made_for_good_how_spoonflower_and_its_maker_community_are_giving_back_this_holiday_season/prweb16645643.htm